Titan is an Australian Champion - Aug 2013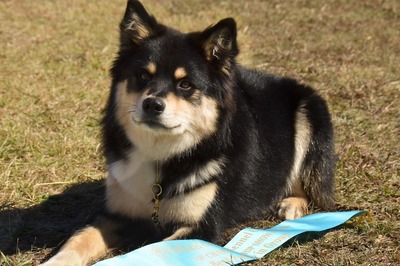 Today Titan gained his final points to become an Australian Champion. He will be known as Aus Ch. Pakkanen Av Vintervidda (Imp NOR).
We are super proud of this puppy. Its hard to believe he's actually 14 months old now as he still delights us every day with his 'happy go lucky' charming puppy ways.
He was handled to his title by our friend Mel Scriven from Lempo Kennels in Victoria. Mel loves this little guy almost as much as we do and when i was worrying about Summer coming into season and wondering if i should try to send him on a holiday (to protect his puppy innocence from dealing with the hormones and to protect me from him becoming a hormone driven boy) she volunteered before i could finish the thought aloud. So we started the planning, before we even found out we were going to be moving to Victoria. We'd already scheduled a show outing or two around some sheep herding for the month or so we were expecting Summer to be in season. I was thinking i was clever to get him some sheep time (which we just dont get here) and now he's the advance party for our move and he'll get to see sheep for almost 2 years.. So, off he went, without a care in world, on the plane down to Victoria. Mel picked him up and he was perfectly fine and is apparently wooing the donkeys next door to their house and trying to charm the Samoyed at home and the Lappies and Ladies in Victoria. Best of luck to our little star, we're sure he'll find a few more fans.