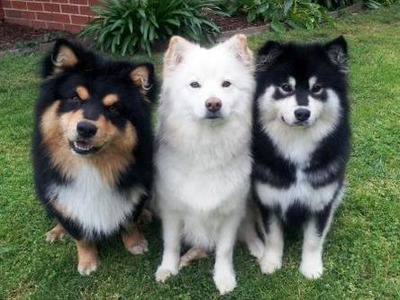 ANKC Prefix: Caleebra
Registered May 2011
Dogs NSW Member Number: 2100079305
Dogs Victoria Member Number: 3100039005
Former DNSW Member Number 2100059040
Hi, I'm Shareen Chouffot, and together with my partner Glen Brassington, our dogs, 1 cat, and the love of our friends and supporters, we form Caleebra Finnish Lapphunds.
I'm ex-Navy and Glen still serves in the Navy, so this sees us move about a bit (hence the accrual of membership numbers).
We're likely to continue to travel between Victoria and New South Wales only for the foreseeable future and hope to eventually pick one to call home permanently.

We are enthusiasts of the pure breed dog world and have fallen hard for the Finnish Lapphund.
As a child I'd loved Spitz breeds and had been determined to one day own a Samoyed. Years later, I stumbled across a photo of a Finnish Lapphund, and wondered at this unusual breed, which looked much 'like a small Samoyed but in colours'. 6 months later I met my first 'Lappies' at the Sydney Royal Show in 2008 before a road trip to Victoria to meet Jacqualine Lincoln of Armahani Kennels and the rest, as they say, is history.

Our beginnings came with Mischa and Dolce from Armahani. They are fantastic companions to us and the best of friends. In 2012, we welcomed 'Summer' from the renowned Lecibsin Kennels in Finland. Also arriving in 2012, from Norway, Titan (Ch. Pakkanen av Vintervidda) was with us for just over 12 months when he died tragically, whilst staying with a friend as we were moving states. We will never fully recover from his loss. With great emotion, we welcomed 'Aslak', also from Vintervidda Kennels, in 2014. But with the loss of Titan being so raw, we didn't feel we could have such a strong reminder in his half-brother at home, and so he lives with Megan at Aetherglow Kennels. We will continue to import Finnish Lapphunds to complement our breeding and because we're admittedly addicted to this wonderful breed. We breed occassionally and some of these puppies are kept in partnership arrangements with their new owners. We want to devote individual time to our Lappies at home, and we want our Puppies to also have the same dedication and devotion in homes with loving families. By forming partnerships with wonderful families, we're able to continue to breed Finnish Lapphunds without compromising on the quality of life of our puppies or our dogs at home. We also forge fantastic friendships along the way.

Our Lapphunds are very family oriented and greet our friends most enthusiastically when they visit. They are up for just about anything, and really enjoy working with us. They pick up tricks and training very quickly. All our dogs enjoy basic obedience training, and we train and trial in Rally-O. We enjoy the daily interaction and our dogs love being able to show us how much they've learnt. They also love the treats. Our dogs are our pets. They live in the house and are underfoot during the day, and on the couch or bed or at our feet at night.

We are members of The Finnish Lapphund Club of Victoria and The Lapphund Club of Finland. We are also registered breeders with the Australian National Kennel Council, through our state canine control. We truly believe in responsible and ethical breeding practices and happily abide by the National (ANKC) and State guidelines and legislation on breeding and maintaining fit and healthy Finnish Lapphunds.
We also strongly believe in the fair and humane treatment of animals. We support the push to Close Puppy Factories and strongly encourage anyone wanting to add a canine member to their family to please do your research and contact a reputable and responsible breeder, foster-rescue group or shelter.

Shareen