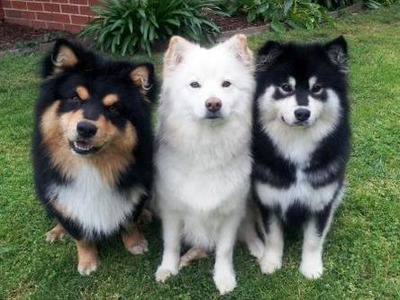 ANKC Prefix: Caleebra
Registered May 2011
New Dogs Victoria Member Number: Pending
PER Source Number is RB101529
Current Dogs Victoria Member Number: 3100039005
Former DNSW Member Number: 2100079305
Former DNSW Member Number 2100059040
We are Registered Preservation Breeders with the ANKC now called Dogs Australia, via Dogs Victoria.
Please contact Dogs Victoria: office@dogs.victoria.org.au to verify our membership.
We are also registered with the Victorian Government for the sale of dogs and puppies through their Pet Exchange Register (PER)
Our Source Number can be verified via the Pet Exchange Register website https://per.animalwelfare.vic.gov.au/
Hi, I'm Shareen Chouffot and together with my dogs, and the love of my friends, supporters and puppy owners, we form Caleebra Finnish Lapphunds.
I'm ex-Navy so this saw me move about quite a bit (hence the accrual of membership numbers). Hopefully now, I will continue to call Victoria home, though who knows what the future has in store.

I have always been dog obsessed, and have fallen hard for the Finnish Lapphund.
As a child, my family owned a Great Dane before delving into dog shows with Tibetan Spaniels. This is when i got my first dog, whom i was solely responsible for training and raising. At dog shows I fell hard for Spitz breed and was determined to one day own a Samoyed. At 18, I joined the Navy and while wearing a white uniform for a decade had given a lot of thought to the lunacy of owning a white dog. How on earth would I ever keep it clean? A few years before I discharged from the Navy, I was helping a friend find a dog breed to suit her and trawling through Dogzonline, as I had done regularly over the years, living vicariously through the Tibetan Spaniel breeders, unable to have my own dog due to work commitments. I stumbled across a photo of a Finnish Lapphund, and wondered at this unusual breed, which looked much 'like a small Samoyed but in colours'. The sensible part of my brain noticed that keeping a coloured dog looking clean would be much easier than a Samoyed. 6 months later I met my first 'Lappies' at the Sydney Royal Show in 2008 before a road trip to Victoria to meet Jacqualine Lincoln of Armahani Kennels and the rest, as they say, is history.

Our beginnings came with Mischa and Dolce from Armahani. Yep, thats right. My first Finnish Lapphund was Cream. A pale coloured dog. Not quite white, but boy you could tell when she'd been having a great time in the garden.
Mischa and Dolce were fantastic companions to us and the best of friends. In 2012, we welcomed 'Summer' from the renowned Lecibsin Kennels in Finland. Also arriving in 2012, from Norway, Titan (Ch. Pakkanen av Vintervidda) was with us for just over 12 months when he died tragically, whilst staying with a friend as we were moving states. I never thought I would recover from his loss. With great emotion, I welcomed 'Aslak', also from Vintervidda Kennels, in 2014. But with the loss of Titan being so raw, I didn't feel I could have such a strong reminder in his half-brother at home, and so he lives with Megan at Aetherglow Kennels. I will continue to import Finnish Lapphunds to complement our breeding and because we're admittedly addicted to this wonderful breed. I've endured more heartache in my attempts to import, thwarted twice from importing new girls. First Missy and then Elsa, both from Lapinlumon Kennels.
I breed occasionally and some of these puppies are kept in partnership arrangements with their new owners. To ensure my puppies live their best life, most of our Puppies are placed in homes with loving families where they can receive the dedication and devotion they deserve. By forming partnerships with wonderful families, we're able to continue to breed Finnish Lapphunds without compromising on the quality of life of our puppies or our dogs at home. We also forge fantastic friendships along the way.

Lapphunds are very family-oriented and greet my friends most enthusiastically when they visit. They are up for just about anything and really enjoy working with people. They pick up tricks and training very quickly. All my dogs enjoy basic obedience training, and i've trained and trial in Rally-O. I enjoy the daily interaction and my dogs love being able to show off how much they've learnt. They also love the treats. My dogs are my family, and my pets. They live in the house and are underfoot during the day, and on the couch or bed or at my feet at night.

I am a member of The Finnish Lapphund Club of Victoria and The Lapphund Club of Finland. I am also a registered breeder with the Australian National Kennel Council, now called Dogs Australia, through our state canine control. I truly believe in responsible and ethical breeding practices and easily abide by the National (ANKC) and State guidelines and government legislation on breeding and maintaining fit and healthy Finnish Lapphunds.
I also strongly believe in the fair and humane treatment of animals. and support the push to end intensive breeding facilities and strongly encourage anyone wanting to add a canine member to their family to please do your research and contact a reputable and responsible breeder, foster-rescue group or shelter.

Shareen
Caleebra Achievements
Our High Achievers