Vader (CALEEBRA DIAMOND EMPRESS)
Vader (CALEEBRA DIAMOND EMPRESS)
Junior Courser
Trick Dog Starter
Working Pack Dog
Trick Dog Champion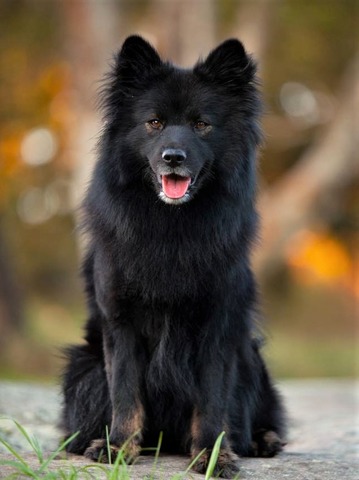 Sex:

Female

Date of Birth:

25-Dec-2015
Colour:

Black

Hips:

5/3

Elbows:

0/0

Eyes:

Clear

prcd-PRA:

Carrier
Vader was the first born Diamond and is solid black with a tiny white blaze on her chest and subtle tan spectacles.
She was a small puppy but has quickly grown up and closely resembles her brother Vegas, also being a solid black.
Kira had been in touch with me years ago and was looking for another puppy 'eventually'. She came down for a visit with Leah and Kira was instantly drawn to little Vader. The feeling seemed mutual as Vader was quite content to be cuddled for hours by Kira and I just waited and hoped that assessment day would fall in their favour. The owner of the sire of the litter, Lumi, had first pick of the girls and after much deliberation she selected Tawnee (Caleebra Diamonds are Forever) who is practically the image of her father, and exactly what she'd been hoping for. Which then allowed me to offer Vader to Kira. To say she was excited is a bit of an understatement. We know that Vader has helped mend the hole left by Kira's first lappie, Heidi, passing away unexpectedly, and we know she's going to do her very best to make the most of every day with her human family and big lappie brother, Ryker.
Vader will be shown and currently lives in the Sydney area.
SHOW AND TRIAL HIGHLIGHTS
CONFORMATION
2016 FLCNSW Opposite Show Dog of the Year (Pointscore)
2016 FLCNSW Best New Talent 2017 (Pointscore)

28 May 2017 Ku-Ring-Gai KC Show Judge Mrs E Benson (NSW) JUNIOR IN GROUP
13 June 2017 Working Dog Club of NSW Judge Mrs S Bruno (QLD) BEST OF BREED
LURE COURSING
30 Sept 2017 NSW Lure Coursing Ass. Judges: Dr J Newton & Mr G Newton (USA) - 184/200 Q & JC title
09 July 2017 NSW Lure Coursing Ass. Yass Judges: S Mueller (QLD), Dr P Hewitt (QLD) - 161 pts, JC PASS
BACKPACKING
24/06/2018 - Alaskan Malamute Club of NSW Inc - Working Pack Dog - Q 16km
23/06/2018 - Alaskan Malamute Club of NSW Inc - Working Pack Dog - Q 16km
​30/07/2017 - Alaskan Malamute Club of NSW Inc - Working Pack Dog - Q 16km