Alleria (CALEEBRA ARMANI DIAMOND)
Australian Champion
Australian Neuter Champion
Alleria (CALEEBRA ARMANI DIAMOND)
Rally Excellent
Trick Dog Starter
Flyball Master Excellent
Junior Courser
Working Pack Dog
Advanced Trick Dog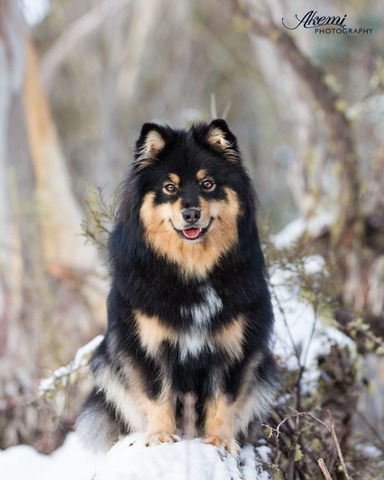 Sex:

Female

Date of Birth:

11-Nov-2013
Colour:

Black and Tan

Hips:

1/2

Elbows:

0/0

Eyes:

Clear 2017

prcd-PRA:

Carrier

GSD-II:

Clear
Alleria was the puppy who almost got away. We loved this little darling from the moment she was born. With rich tan markings, she was quite adorable and easily noticed, even before her eyes opened. We made the decision to let her go to a fantastic family in Sydney, who had met and were smitten with her aunt Veikko and whom she reminded us of with her cheeky personality. We caught up with her again a few months later when we were in Sydney at the NSW Lappie Specialty show and her owners thought they'd like to give showing a try. We were more than happy to see little Alleria in the ring and were delighted when she achieved her Australian Champion title in Feb 2015.
Alleria is also training in Obedience, and has attained her Novice, Advanced and Excellent Titles in Rally-O. Alleria will continue to trial in dog sports and we're really excited to see how she goes. She started competing in Flyball in 2017 and earned her first two titles in her first comp. She's a star!
Alleria is the puppy who most closely resembles her sire, Dolce. We have such a soft spot for our sweet little mini-Dolce.
SHOW AND TRIAL HIGHLIGHTS
CONFORMATION HIGHLIGHTS
02/07/17
Junior Kennel Club of N.S.W
Dr Zafra Sirik (Israel)
Best of Breed (13 pts)
17/06/17
Dogs NSW PRC Dogs on Show
Mrs J Campbell (VIC)
Best of Breed (25 pts)
19/07/15
North of the Harbour
Mrs P Heikkinen-Lehkonen (FIN)
Best of Breed (11 pts)
01/11/14
Liverpool & District ABKC
Mr J Bryson (NSW)
Puppy in Group
26/07/14
T & G All Breeds,
Mr F Klindrup (Denmark)
MInor Puppy in Group
FLYBALL
24/11/18
Belconnen No Frills Flyball Comp - Open
1st Place & FM Title
09/09/17
CDC X-Factor Homecoming - Div 1
3rd & AFCh title
06/06/17
Psychos for Koolies - Open Division
3rd place FDCh title
08/07/17
Advanced dog Extravaganza - open division
1st place
06/05/17
Howling in the Hills - division 4
1st place FD and FDX titles
16/04/17
Australian Flyball Nationals 2017 - Beginners Singles
1st in division 3b and 1st overall
| RALLY | | |
| --- | --- | --- |
| 24/09/17 | Blacktown Kennel and Training Club | Excellent Q80 RE Title |
| 24/09/17 | Blacktown Kennel and Training Club | Excellent Q88 |
| 27/08/17 | Brush Farm Dog Training Club | Excellent Q82 2nd place |
| 26/08/17 | Central Coast Dog Obedience | Excellent Q86 3rd Place |
| 26/08/17 | Central Coast Dog Obedience | Excellent Q94 2nd Place |
| 11/03/17 | ACT Companion Dog Club | Advance Q87 3rd place RA Title |
| 11/03/17 | ACT Companion Dog Club | Advance Q80 |
| 23/10/16 | Brush Farm Dog Training | Advance Q93 and 1st Place |
| 23/09/15 | Metro mid-week Club | Novice Q84 RN Title |
| 20/09/15 | Blacktown Kennel Club | Novice Q74 |
| 20/09/15 | Blacktown Kennel Club | Novice Q72 |
| BACKPACKING | | |
| --- | --- | --- |
| | | |
| 13/08/2017 | Alaskan Malamute Club of NSW Inc | Working Pack Dog Q 16km |
| 12/08/2017 | Alaskan Malamute Club of NSW Inc | Working Pack Dog Q 16km |
| 29/07/17 | Alaskan Malamute Club of NSW Inc | Working Pack Dog - Q 16km |
| HERDING | | |
| --- | --- | --- |
| 17/05/15 | | Herding Instinct Certified |
| | | |
| LURE COURSING | | |
| 3/09/17 | NSW Lure Coursing Assoc | 161 JC Title |
| 25/09/16 | NSW Lure Coursing Assoc | JC - Q160/200 |