Tawnee (CALEEBRA DIAMONDS ARE FOREVER)
Australian Grand Champion
Tawnee (CALEEBRA DIAMONDS ARE FOREVER)
Rally Novice
Agility Dog Excellent
Jumping Dog Excellent
Strategic Pairs Dog Excellent
Snooker Dog
Working Pack Dog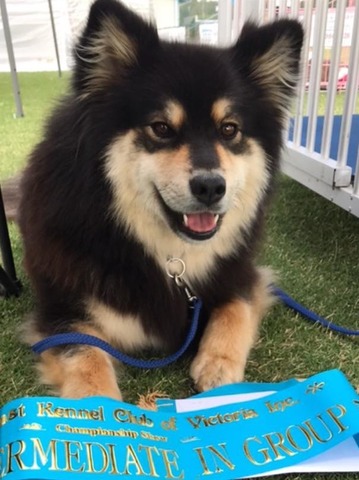 Sex:

Female

Date of Birth:

25-Dec-2015
Colour:

Black and Tan

Hips:

6/2

Elbows:

0/1

Eyes:

Clear 2016, 18

prcd-PRA:

Carrier
This little Princess is almost the image of her father. Except she's definitely a girl. Quite feminine, she was eye-catching as a puppy and when we stacked her up on the table on assessment day it was unanimous agreement that she was gorgeous and destined for a show home. She now lives with her dad and shares her life with a couple of other dogs as well.

She's already had quite a successful start to her early show career, accumulating quite a few awards as a youngster and achieving her Australian Champion title by 9 months old.
Tawnee lives in country Victoria, and doesn't often travel to the central metro areas for shows, so we're delighted that when she has had the opportunity to compete against other Lappies in larger numbers she's done remarkably well.
The Border Challenge is a friendly 3-day competition between Lappies from the states of Victoria and New South Wales held each year near Albury. It is arguably the biggest show weekend on the Finnish Lapphund calendar each year. This is almost the only time Tawnee actually shows against other Finnish Lapphund competition as she lives local to Albury showgrounds so its pretty wonderful to see her do so well. Her first year in 2016 she was awarded all 3 Baby Puppy in Groups on offer and a 2nd in Baby Sweepstakes from 28 entries. In 2017 she managed 1 Best of Breed and in 2018 was awarded the Bitch Challenge on Saturday and Sunday (she didn't attend Friday). She makes Bianca work hard for it, as running around in circles on lead seems rather boring to Tawnee compared to Agility. Typical Lappie really.
After earning her Australian Championship in the show ring, Bianca and Tawnee then hit the Agility trialling ring and earnt the final quallies for her first 3 titles in one weekend.
She earnt her Jumping Dog, Agility Dog and Strategic Pairs Dog Agility Titles early in 2018.
She loves Bianca and the bond they share is wonderful to see.
We're certainly very happy with her and hope she has a very exciting future ahead.
CONFORMATION HIGHLIGHTS
Award
Event
Judge
Date
Baby Puppy in Group
Ovens Valley Canine Club
Ms M Clegg
3 Apr 16
Baby Puppy in Group
Deniliquin & District KC
Mr C Fynmore
15 Apr 16
Baby Puppy in Group
Deniliquin & District KC
Mr J Sheppard
16 Apr 16
Baby Puppy in Group
Deniliquin & District KC
Mrs V Harris
17 Apr 16
Baby Puppy in Group
South West Slopes ABKC
Mr T Tancred
14 May 16
Baby Puppy in Show
South West Slopes ABKC
Mr T Horchner
14 May 16
Minor Puppy in Group
Riverina & District KC
Mrs C Camac
16 Jul 16
Minor Puppy in Group
Riverina & District KC
Mrs S Brown
17 Jul 16
Minor Puppy in Group
Murray Valley KC
Mrs K Hardwicke
5 Aug 16
Minor Puppy in Group
Murray Valley KC
Mr B Anderson
6 Aug 16
Minor Puppy in Group
Murray Valley KC
Mrs E Middleton
7 Aug 16
Minor Puppy in Group
Parkes PA & H Association
Mr M Arthur
29 Aug 16
Minor Puppy in Group
West Wyalong KC
Miss C Stuart
6 Sept 16
Minor Puppy in Group
West Wyalong Show Society
Mrs D Fenton
7 Sept 16
Minor Puppy in Group
West Wyalong KC
Mrs S Patterson
8 Sept 16
Puppy in Group
North East KC
Mr D Sidebottom
25 Nov 16
Puppy in Group
North East KC
Mr S Meredith
26 Nov 16
Puppy in Group
Wodonga KC
Mr W Burton
26 Nov 16
Puppy in Show
Wodonga KC
Mr W Burton
26 Nov 16
Puppy in Group
Wodonga KC
Mrs K Haddon
27 Nov 16
Intermediate in Group
Harden Murrumburrah KC
Mrs K Haddon
28 July 17
Intermediate in Show
Harden Murrumburrah KC
Ms E Brown
28 July 17
Intermediate in Group
North East KC
Mr S Warby
24 Nov 17
Australian Bred in Group
Riverina District ABKC
Mr A Fry
29 Jun 18
Australian Bred in Group
Riverina District ABKC
Mr C Moore
1 July 18
| | | |
| --- | --- | --- |
| AGILITY HIGHLIGHTS | Date | Results |
| Novice Agility | | |
| Wangaratta K & O Dog Club | 13 Aug 17 | Qualified |
| Belconnen dog Obedience Club | 19 Aug 17 | 1st place |
| Dogs ACT | 24 Sept 17 | 2nd place |
| Belconnen Dog Obedience Club | 17 March 18 | 2nd place |
| Albury & Border KC | 25 Mar 18 | 1st place AD TITLE |
| Novice Jumping | | |
| Dogs ACT | 23 Sept 17 | 1st place |
| Dogs ACT | 24 Sept 17 | 1st place |
| Belconnen Dog Obedience Club | 17 March 18 | 3rd place |
| Albury & Border KC | 25 March 18 | 1st place |
| ACT Companion Dog Club | 31 March 18 | 4th place JD Title |
| Novice Strategic Pairs | | |
| Dogs ACT | 23 Sept 17 | 5th place |
| Albury & Border KC | 24 March 18 | 1st place |
| ACT Companion Dog Club | 31 March 18 | 8th place SPD Title |
| Novice Snooker | | |
| Albury & Border KC | 24 March 18 | 2nd place |
| Dogs ACT Epic Extravaganza | 7 July 18 | Qualified |
| Novice Gambler | | |
| Dogs ACT Epic Extravaganza | 7 July 18 | Qualified |
| | | |
| Excellent Agility | | |
| Wangaratta K &O Club | 11 Aug 18 | 1st place |
| Open Agility | | |
| Wangaratta K &O Club | 11 Aug 18 | 5th place |
| Excellent Jumping | | |
| Kyeamba K & T Club | 28 Apr 18 | 1st place |
| Wangaratta K &O Club | 11 Aug 18 | 2nd place |
| WORKING PACK DOG | | |
| --- | --- | --- |
| Date | Fixture | Result |
| 21-Jul-18 | Alaskan Malamute club of NSW | Q 1st 16km hike |
| 22-Jul-18 | Alaskan Malamute club of NSW | Q 2nd 16km hike |
| 4-Aug-18 | Alaskan Malamute club of NSW | Q 3rd 16km hike |
| 5-Aug-18 | Alaskan Malamute club of NSW | Q 4th 16km hike WPD Title |
| | | |