We attempted a straight 5 days of dog showing over the Queens Birthday weekend. Given i'm recovering from whooping cough it wasn't the smartest idea i've had, but i held up ok. It was the week after that i really suffered.
It started easily enough with a Thursday West Gippsland KC show with Judge Mr Francisco Rodriguez (Spain) where Winter earned her first points with Bitch Challenge and Runner Up Best of Breed.
The Friday show she was Reserve Bitch. Saturday and Sunday i'd entered a few more dogs. Saturday was the Working Dog show double where we lost every class and we were able to relax for the afternoon.
Sunday I was rather expecting more of the same, and i was really starting to hurt, but being a glutton for punishment we were there bright and early to do it all again.

At our FLCV Open Show under Judge Ms Kathy Smith we had a great day.
Zeke (Caleebra Fearless Hero (AI)) was Best Minor Dog and Opposite Minor in Show
Vegas was Best Junior Dog, Best Dog and eventually awarded BEST IN SHOW!!
Aslak was Best Open Dog and Opposite Open in Show
Winter was 2nd (last) in Minor Bitch
Mischa was Best Neuter Bitch and Opposite Neuter in Show

Zeke and Winter teamed up for the Brace competition. Turns out we were the only ones brave enough but they did so well strutting around the ring together and were awarded 'Best Brace'
Mish was awarded Best Coated Neuter.
Summer wasn't entered as she's still recovering coat from her litter, though we let her have a run in the ring afterwards so she felt she was part of the action. The judge was even kind enough to play along. Sums had been beside herself and driving us all nuts all day and she promptly fell asleep after she'd had her turn. Poor darling. She's missing the show ring.

On the Monday i'd only entered Winter and we lost to the Minor puppy dog so again we were done and dusted quickly. It was a long and tiring weekend, with some fantastic wins scattered through. I'm so grateful to the puppy owners who made it possible.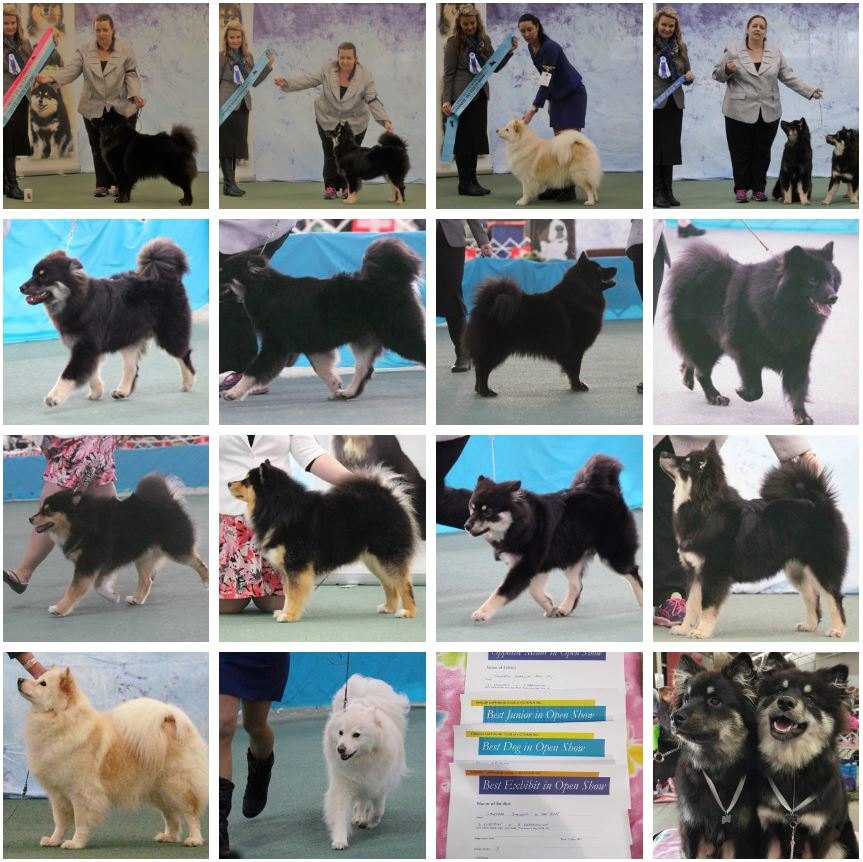 Photos: Top Row - BEST IN SHOW: Vegas, Opposite Minor in Show: Zeke, Opposite Neuter in Show: Mischa and Best Brace (Zeke and Winter)
Row2: Zeke x2, Vegas x2
Row3: Aslak x2, Winter x2
Row4: Mischa x2, Our winning certificates, Brace Winners, Zeke and Winter